MSR-Traffic GmbH is fitting three car parks run by Stadtwerke Neuburg an der Donau with smart parking space sensors.
Intelligent parking space sensors and parking guidance systems are extremely important for sustainable, climate-neutral mobility. They update drivers in real time on free parking space capacity and help them navigate to the next open parking space as quickly as possibly. Not only does this cut down on unnecessary driving, it also reduces harmful emissions. This consequently increases the quality of life in urban centers and promotes Smart Parking.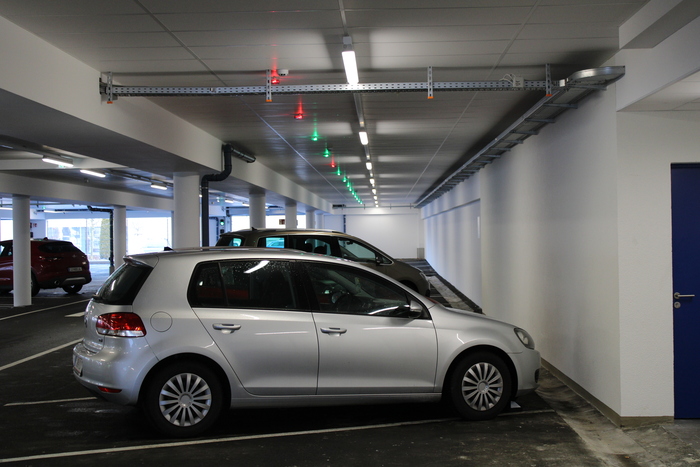 ©MSR-Traffic GmbH
Parking guidance systems from MSR-Traffic are used to regulate the parking situation in Neuburg an der Donau for these reasons. Over 250 ultrasonic sensors will direct drivers looking for parking spaces and organize the parking situations in underground car parks in Schrannenplatz, Spitalplatz and Fürstgarten to be more dynamic and efficient.
How are the parking space sensors used?
To help drivers find their way and find a parking spot quickly, each parking spot in the underground car parks is fitted with an LED ultrasonic sensor that displays different colours to show whether the spot is occupied. This makes it immediately obvious where free spots are still available. In addition, LED matrix displays have already been installed at the underground car park entrance which reflect the total occupancy in the car park.
The Fürstgarten underground car park will also be fitted with a display near the entrance to indicate open parking spaces for electric cars, plus LED matrix displays that guide drivers through the car park. Information from each parking spot in the three underground car parks is analysed in real time using a cloud-based solution.
MSR-Traffic solutions
ParkGard® ultrasonic sensors, model Cross, (from now on ultrasonic sensor SONICI) are used in the underground car parks to control parking management. They serve the purpose of single-space detection and detect the occupancy status of a parking space. The status of the space is then indicated by five ultra-bright LEDs per colour.
The ultrasonic sensor and LED display are both in the same housing and the serial interface transmits information to the ParkGard®Control Center PG-CC, which then analyses the information.
MSR-Traffic GmbH commissioned and installed the parking space sensors for this exciting project in February 2023.