Fraport AG once again relies on intelligent guidance systems from MSR-Traffic, Lower Bavaria, for sustainable parking management.
LED matrix displays and the new ParkGard®Control Center from MSR-Traffic GmbH guarantee dynamic parking management in the entrance area of the parking garages in Terminal 1. Parking guidance systems are of vital importance to sustainable and climate-neutral mobility. They update drivers in real time on free parking space capacity and help them navigate to the next open parking space as quickly as possibly. Not only does this cut down on unnecessary driving, it also reduces harmful emissions.
©MSR-Traffic GmbH
Fraport AG is an international leader in the airport business and is established in nearly 30 airports on four continents. Fraport provides all operative and administrative services in airport and terminal operations, such as air flight and terminal operation, airport supplies, VIP services, IT services, energy management, airport development, company security and ground services.
Efficient parking management and climate neutrality. 
Fraport AG is also responsible for the area of parking management and mobility. As part of modern mobility management, it is laying the infrastructural groundwork for the climate neutrality desired at Frankfurt Airport. This includes minimising the time spent looking for parking spaces through the use of intelligent guidance systems and LED technology.
The latest project – the installation of LED-Matrix displays in the entrance area of the parking garages in Frankfurt Airport's Terminal 1.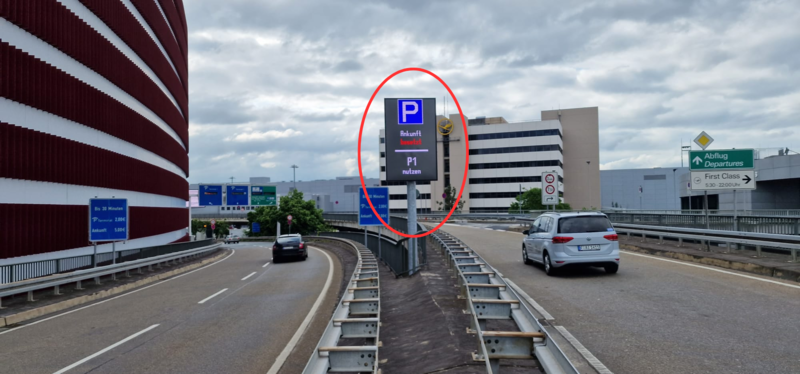 ©MSR-Traffic GmbH
Because the traffic and parking situations in the terminal's entrance area can change at any time, Fraport now has the ability to update the displays to reflect traffic needs in real time via control software, with the help of the LED matrix displays and the new ParkGard®Control Center (PGCC). This promotes dynamic traffic guidance and efficient parking management.
LED-Matrix displays.
The dynamic  LED-Matrix  displays  have a flat and modern design. Numbers, arrows and symbols can also be configured individually. All displays can be combined with conventional traffic signs and can also be equipped with optional wireless communication technology from MSR-Traffic.
A variety of different application possibilities make the LED-Matrix system highly versatile. For example:
Display the occupancy status at the entrance and each aisle
Display event-based information, e.g. charging stations for electric cars, disability parking spaces
Changing display for number of parking spaces
Display special events, e.g. parking spaces for women or for people with children
Weather display
Advantages.
Individual configuration of numbers, arrows and symbols
Flat and modern design, customisable modular concept
Good visibility with non-reflective displays
Dynamic searching for parking spaces, data transmission in real time
©MSR-Traffic GmbH