MSR-Traffic installs intelligent parking guidance systems for Netze BW GmbH in Meersburg
Digitalisation of mobility is an important step on the road to a smart city. It not only eases traffic congestion and simplifies the search for parking in cities, but also promotes climate neutrality and sustainability in urban spaces.

©MSR-Traffic GmbH
Netze BW GmbH is playing its part in this process with the introduction of MSR-Traffic's intelligent parking guidance systems for dynamic traffic management at various car parks in the city of Meersburg. As the largest distribution network operator for electricity, gas and water in Baden-Württemberg, Netze BW GmbH guarantees an efficient, secure supply to customers from its local distribution networks.
How do the parking guidance systems regulate traffic in Meersburg?
A total of 33 dynamic digital LED matrix displays are installed. They show the occupancy statuses of the Ergeten, Allmend, Allmend 2, Allmend Bus, Töbele and Hämmerle car parks in real time.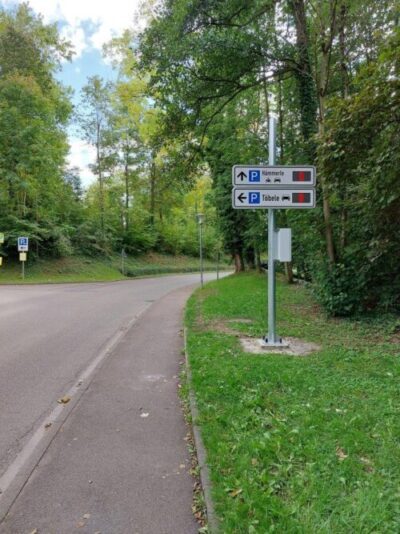 ©MSR-Traffic GmbH
The sign locations are equipped with batteries that are charged at night with electricity at the night-time rate. More than ten induction loops are installed at the car parks to enable secure and reliable vehicle detection.
This means that every vehicle driving over a loop is immediately detected via the induction technology.
Solutions from MSR-Traffic
Parking guidance systems with LED matrix displays are used for efficient parking management in the car parks. They are suitable for both indoor and outdoor use and serve as displays showing various texts, numbers and arrows or as information panels, for example, for optimal traffic guidance.
©MSR-Traffic GmbH
The information is transmitted to the sign via a serial Ethernet interface. The outdoor display housing can easily be fastened to an existing traffic sign with a mounting bracket.
LED matrix displays are often used in stadiums, in transit advertising at bus stops and railway stations and at shopping centres. Due to their amazing visual performance and modular design, they are ideal, for example, as signs for guiding traffic, indicating how many parking spaces are available or identifying disabled parking spaces or charging stations.
Advantages of the parking guidance systems
High light output
Brightness control via light sensor
Rugged and practical housing
Energy-saving LED technology
Support for animations, images, text, clock etc.
MSR-Traffic was commissioned with this exciting project by Netze BW GmbH. The parking guidance systems were installed and put into operation in September 2022 by VOLTA GmbH, partner of MSR-Traffic.