Perfect control of all parking spaces in real time
The ParkGard® Control Center of MSR-Traffic leaves nothing to be desired in device supervision and control.

REST-API
Easy integration into SW application
Data transfer in JSON format
Read / write rights via user level
Reserve / lock / dark switching
DI/DO control (lock barrier)
Display (LED-Matrix)
Event-based control
Filling level exceeded: Release of parking spaces (e.g. HC/E parking space)
Traffic control in case of fire
Alternating display: number of parking spaces / weather / events / INFO
Projekt-Management
Integration of multiple parking garages
User account control with access to projects
Public access (e.g. www.unserestadt-1-2-3.de)
Only rented parking spaces visible
Scheduler
Automate recurring actions
Weekly market "Close parking lot
Night shutdown "Save electricity
Events - plan & control traffic
E-Mail/SMS
Notification about long-term parkers, vacationers and weekend parkers
Malfunctions/Alarms/Maintenance
Excel-Reports
Predefined Excel tables for the evaluation of parking statistics
Customized tables (e.g. weather etc.)
Integration
Many connections already available (cabinet systems, induction loops, etc.)
Project-specific interface integration
Cloud / WEB-Service
E.G. www.ihr-parkleitsystem-1-2-3.de
Access via Internet
No additional PC necessary
Complete separation from the company network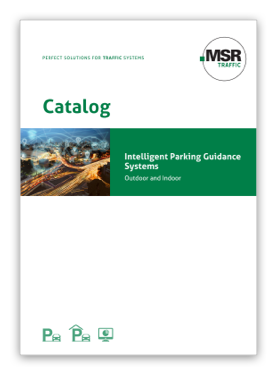 The MSR-Traffic online catalog
Inform yourself about our products and systems in our interactive flip page catalog.